27/01/2023
Great
Product Name: G2A
Product Description: G2A is a unique online marketplace designed to connect buyers and sellers. It's a place where you can buy and sell Steam, Origin, Uplay, Epic Games keys as well as 3D skins, gift cards, software licenses, electronics, gaming chairs, apparel, etc.
Overall
3.6
Prices (3.1)
Support (3.5)
Overall (4.2)
User Review
3.43 (21 votes)
SUMMARY
Buying games on G2A is safe, and most of the game keys purchased there will be valid and work. There are bound to be problems here and there, but the majority of such issues can be handled using the customer support center.
PROS
Large collection of games and sellers
Resolution center where you can have interaction with seller
You can even buy electronics
You can leave rating for seller
See previous buyer reviews for particular seller
Payment gateway fees are already included in price
No extra fees at checkout
CONS
G2A inactivity fee
G2A has high various fees for sellers which results in higher game prices
Inaccurate product and region descriptions on some product listings
For money-back gurantee you need to file police report
Sometimes long waiting times for support answers
In this G2A review, I will answer questions like is G2A legit, how it works, is it safe to use, what are pros and cons of using G2A, what features and options offers, etc. so that you can make an informative decision if you wish to use this marketplace.
Most gamers know about the G2A marketplace or they heard about it. G2A is a unique online marketplace designed to connect buyers and sellers. It's a place where you can buy and sell Steam, Origin, Uplay, Epic Games keys as well as 3D skins, gift cards, software licenses, electronics, gaming chairs, apparel, etc.
G2A's increase in popularity is due to the fact that prices for game keys on their site are some of the lowest on the Internet. The site also offers added incentives such as loot boxes. Loot boxes give gamers a chance of winning the games for way less than regular retail prices.
But how are products on G2A so affordable? Software and game downloads have very minimal production and distribution costs. But costs can vary. Some game developers charge higher prices for users in developed countries that generally have more disposable income. While people in, for example, Asia get lower prices on games.
POPULAR GAME KEY MARKETPLACES
Certain G2A sellers take advantage of that fact by buying game keys where they are cheaper and then reselling those keys at higher prices. They earn profit and buyers in developed countries still get cheaper prices than buying from official stores.
Sellers on G2A also frequently buy game keys in bulk during sales on other stores with the intention of reselling them at a higher price afterward. Some G2A sellers work directly with specific game developers to obtain special pricing for game keys.
Table of Contents
What Is G2A?
What is G2A? G2A is a company registered in Hong Kong. That is where the company's headquarters is but they have offices in Poland which is from where they mostly work. Then why they are registered in Hong Kong? It is because the law there makes possible for a company to pay lower taxes overall (or none).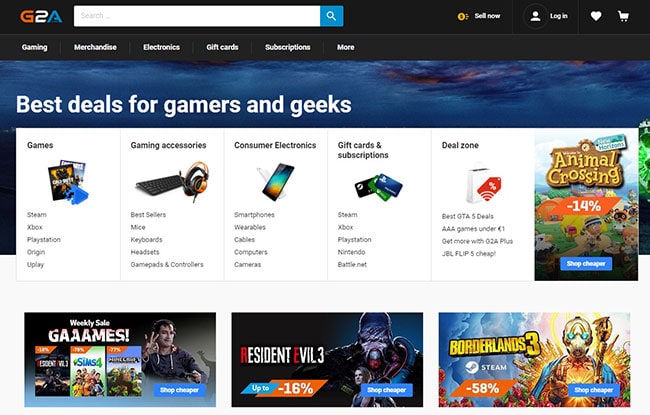 Game keys on G2A are made available by "marketplace sellers," who have keys to sell for particular games. These sellers can be companies who have purchased game keys in bulk in areas where the keys are less expensive, or they could be private individuals who purchased game keys but decided not to activate them or have spare keys that they don't need. There may also be some keys that have been illegitimately acquired.
G2A is just a platform that acts as an intermediary between sellers and buyers. They don't sell or buy any products. G2A is a distribution platform for game CD keys. These keys can be activated and used on your favorite platform like Steam, Origin, Uplay, GOG, Epic Games, etc.
G2A attracts over 4 million customers each month and conducts over 10 million online transactions. It's an open marketplace that anyone around the world can use to either sell or buy game keys.
How Does G2A Work?
How does G2A work? G2A is an online marketplace similar to Amazon or eBay. It offers payment processing and an eCommerce platform for sellers who want to offer digital goods. G2A itself doesn't sell anything, it just facilitates sales transactions. G2A makes money from the fees (check all G2A selling fees) that it charges sellers and buyers for each transaction.
Some call G2A a "grey market," because the majority of its merchants aren't authorized resellers or game developers. While this may seem like a negative connotation, the same term can also be applied for other comparable specialized online marketplaces like eBay. As sellers, there are also not authorized resellers.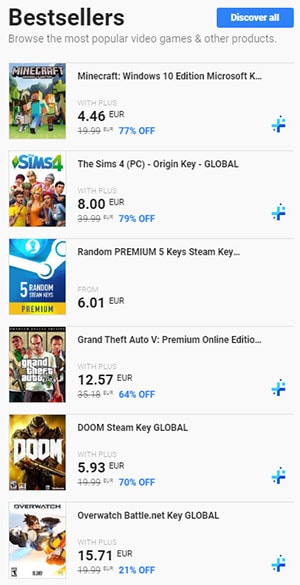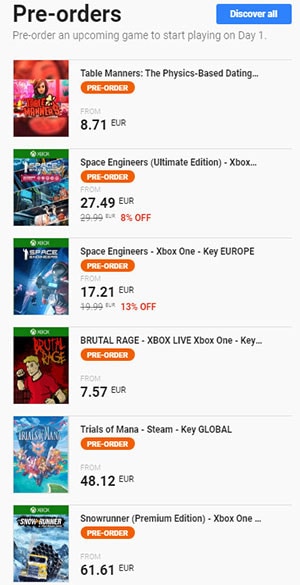 For instance, if you purchase a watch on eBay, it can be from the inventory of a small business whose niche is used watches or it may come from a private seller. In either case, the watch manufacturer has no say in the transaction and doesn't earn any money from that transaction. The manufacturer already received money when the product was purchased the first time. The same goes for game keys.
It's very easy to buy game keys on G2A. Find the game you want to purchase and pick a seller from which you want to purchase. After purchase, you'll get an email containing your license key.
You can then go into your Steam account, and go to the "Games" tab. Select the "Activate a product in Steam" option from the menu. Enter the code that you purchased so that you can download and install that particular game.
G2A offers several secure payment methods, including Bitcoin, iDeal, PayPal, Paysafecard, Skrill, MasterCard, Visa, etc.
Is G2a Legit?
Is G2A legit? This is what most buyers want to know. G2A is legitimate. Even though game developers can't dictate where you buy your games from (but some do implement region restrictions), buying a game for less than the retail price isn't illegal.
While a gray market website may sometimes circumvent a game developer's approved distribution channels, buying a game key from a reseller on G2A is not illegal unless the reseller obtained the key fraudulently.
Although game developers have no control over where game keys are purchased, they can revoke any keys that may be considered fraudulent. Certain game developers have asked Steam and other gaming marketplaces to disable any keys that are acquired fraudulently.
It's possible that a game key could work on Steam one day and then not work the next day. There are also instances where you can purchase a non-working game key on G2A.
The platform does offer a dispute resolution center to consumers with valid complaints and money-back guarantee. But it doesn't guarantee that game keys will never stop working or that they'll even work at all.
Is It Safe To Buy On G2A? What Are The Risks?
Most of G2A game keys come from bulk deals, sales or online stores that are only intended for certain regions. It's perfectly legal to buy game keys in these situations. Just keep in mind the fact that some game keys offered for sale on G2A may have been purchased by sellers using lost or stolen credit cards.
Fraudulent game keys are considered stolen merchandise. You can't own stolen game keys, even if you bought it without knowing anything about its origin. Thousands of game keys have been invalidated by game developers on G2A in recent years because of credit card fraud.
G2A has taken measures over the last several years to enhance customer service after many complaints from customers and game developers in regard to their selling practices. Sellers on G2A used to be anonymous. Now sellers are required to verify their identities.
Sellers have to register as a business (company), supply their VAT number, company registration details, ID card, etc. in order to be able to sell on G2A. Check the seller's rating and feedback left from previous buyers before making a purchase on G2A.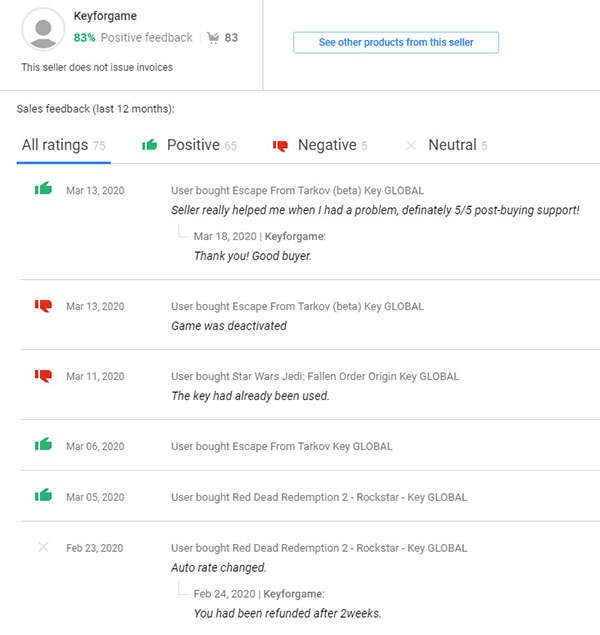 G2A lets you see how many transactions each seller has completed, just like eBay. Customer feedback can help you determine whether or not the game keys that are put up for sale will actually work when activated.
Is it safe to buy on G2A? G2A is safe, as long as you take the same precautions that you would for any other online purchases. It's no different than eBay or Amazon Marketplace. Your computer won't be at risk just because you've purchased game keys on G2A.
The games themselves don't have viruses. The only potential risk in buying from G2A is that you may end up with a game key that either stops working later on or doesn't work at all.
G2A processes thousands of transactions each day. Most of those transactions are positive. However, there are always negative transactions where consumers have bought game keys that didn't work or stopped working after a certain amount of time.
In those cases, you can open a support ticket and try to solve the issue with the seller. If it doesn't work, you can use the G2A money-back guarantee.
How To Buy Game Key On G2A?
Time needed: 3 minutes.
How to buy game key on G2A? Buying games on G2A is easy. Here's how it works:
Finding the game you are interested inLogin to your G2A account or register if you don't have one (you can also purchase as a guest).

Go to the search bar and type in the name of the game that you want.

Choose the "See all results" option if the game you want doesn't appear in the drop-down menu.

Select the gameChoose the game that you want to purchase from the list of games that appear. Just make sure that the selected game is available in your country and the platform that you want to use it before you buy it.
Choose a sellerScroll down to see all available sellers for that particular game on the product page. Sellers can be sorted by best rating and best price.

You can also view information such as seller ratings, how many transactions each seller has completed, etc.
Add product to cartClick on the cart icon once you've chosen the seller that you want to purchase the game from. The game will then appear in your shopping list.
Proceed to checkoutSelecting the "Continue to cart" option will bring you to the shopping cart page. Here you'll find all of the games that you added to cart.

This window will show you the total price of your order. All associated fees will already be included in the price.

You can also activate any applicable discount codes in this section.
Continue to paymentAfter you enter your email address click "Continue to payment". The payment option page will offer you different payment methods available depending on your country.

Choose the payment method that you want and click pay. Be noted that additional fees might be added depending on the payment method chosen.
Payment screenYou'll be redirected to the payment screen. Here you enter your payment details. I don't recommend taking G2A Plus offered here. Complete the payment.
Payment completed.After payment is completed you will then be brought to a confirmation page. Here you can see the details of your purchase and access your game keys.
Geting the game keyClick on the "Get Game Key" option to see the game codes that you've purchased.
G2A Publisher Program (G2A Direct)
G2A lets publishers sell their game codes on the G2A marketplace. Publishers who sell their codes will have their listing appear on the top of the page when you're viewing information for that particular game (no matter if their price is highest).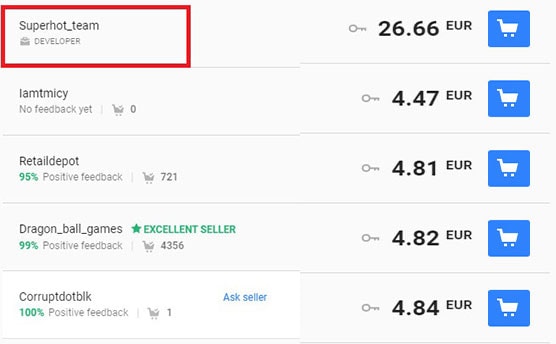 Buying a game from the publisher ensures that your game purchase is secure. You won't have to worry about your game key not working or being deactivated in the future.
This program allows game developers to make extra money from game sales on G2A. If a third-party seller sells a game that is in the publisher program, that publisher will get 10% from that sale.
G2A Inactivity Fee
G2A charges 1 EUR inactivity fee for any G2A accounts that have been inactive for 180 days. This kind of fee is nothing new as many companies have the same type of charges. As far as I know, Kinguin, Eneba, and Gamivo don't have such a type of fee.
An email will be sent to users three days beforehand to remind them that the fee will be charged if they don't log in to their accounts and use them. The fee will be deducted from the user's G2A Wallet. If there are no funds in the user's Wallet account, no fee will be charged. Another 1 EUR inactivity fee will be deducted for each month that the user account remains inactive.
If a user logs into their account, the timer for the inactivity fee will then reset. Users will then have another 180 days to use their account before being charged with the fee. Accounts are automatically set to inactive status if a user has no remaining funds (or no funds to start with) in their G2A Wallet. To reactivate an account, all a user has to do is to log back in.
What Is G2A Plus?
G2A Plus is a subscription-based product that grants its members benefits like free G2A Loot Points, exclusive deals, etc. You can become a G2A Plus member at any time during the G2A PAY checkout process or through the dedicated landing page G2A Plus.
Being a G2A Plus subscriber means you get 7 Loot Points each month, some deals prepared exclusively for subscribers both from G2A.COM and G2A partners, G2A giveaways and priority in support system if you ever need assistance, additional discount on games in G2A marketplace, etc..
When you activate G2A Plus, you'll gain access to all the benefits available in the dedicated landing page, which is updated monthly. For more info check my post where I have showed how G2A Plus works and how to activate G2A Plus.
What Is G2A Loot?
G2A Loot is a service that adds another layer of fun to the G2A ecosystem. Using G2A Loot, customers can open themed video game loot cases in exchange for G2A Loot Points. Each loot box includes a minimum of five games. After purchase and loot box opening, you can see which of the games featured inside will be yours.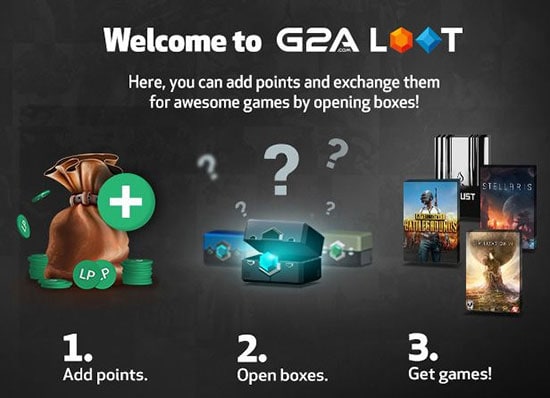 Select the loot case you like. You can click on it and scroll down to see a list of games hiding inside. If interested, click a green "Loot this case" button to spend your Loot Points.
Once you have looted a game, you will have the option to claim it and add it to your Steam library. If you would not want to get it, you also have the option to sell it for a portion of Loot Points (based on the value of your loot) and use them to open a new case.
If you want to try it out without paying, you can test using the "Free test" button. Keep in mind only that the free test is only a simulation. No games will be received using it.
To add the game to your Steam library, you need to provide your Steam login, password, and the Steam Guard token. The game will be added to your Steam account automatically.
For more info about G2A Loot, you can check my post where I discuss if is G2A Loot rigged or legit.
G2A Frequently Asked Questions
Here are most frequently asked questions regarding G2A:
1. Where do G2A game key sellers get their codes from?
Game key sources can vary from seller to seller. Big sellers usually buy their game keys directly from game distributors. Small sellers often purchase game keys during sales or other promotions on other online stores.

For most sellers on G2A, the way in which they acquire their game keys is traditionally considered to be their "trade secret."
2. Are sellers companies or individuals?
Anyone can sell on G2A's website. There are sellers who are private individuals, game developers, game distributors, and wholesale sellers.

As a private seller, you can sell up to 1000 EUR in total. For anything beyond that, you need to register the company. There are currently over 50,000 active sellers on G2A's Marketplace.
3. How can sellers offer prices that are lower than those on other stores like Steam or Uplay?
Games purchased during special promotions can be bought at higher discounts so that you can resell them afterward.

Big sellers frequently have their own distributors from which they buy in bulk and receive discounts.
4. Do codes come from gamers who have already used them, and are now being sold as "used" or "second hand?"
Activation codes for games can only be used once. They will then be bound to your account. Once this happens, a game code can't be resold. A game key that's already been activated can never be traded in.
G2A PROS & CONS
Here are some of the advantages and disadvantages of using G2A:
G2A PROS:
A large collection of sellers and affordable game prices
Resolution center for solving any issues with the seller
Instant key delivery
You can even buy electronics, gaming accessories, software products, gift cards, etc.
You can leave a rating for your purchase
Option to see reviews left from previous buyers for a particular seller
All additional fees are already included in the price
G2A CONS:
You need to file a police report to get a refund in case of an issue
G2A takes many and high fees from sellers which results in a higher price than other marketplaces
Inaccurate product and region restriction descriptions on some product pages
G2A inactivity fee
Sometimes it takes time to get a support response
G2A often bans users for various reasons (if you make payment reversal you will be banned)
Websites Like G2A
G2A is just one of many sites for purchasing game keys. Each site has its own game selections and features. It's a good idea to review all of them before making a buying decision. Marketplaces similar to G2A include Kinguin, Gamivo, and Eneba. They are just some of the many popular websites that offer game keys for sale.
Kinguin is comparable to G2A. Both sites rely on third-party sellers for their game inventories. You won't know the origin of any game key that you buy on Kinguin, much like G2A.
Even though the vast majority of game keys that are available on both sites are legal, you should go with the site that offers the game that you want for the cheapest price. The business practices of both Kinguin and G2A are basically identical in almost every aspect except that Kinguin lately has payout delay isuses with its merchants.
Eneba is fairly new to the online game marketplace. Its business model is similar to that of G2A. Eneba has quickly become a popular choice due to its constantly expanding library of available titles.
Their catalog includes titles for Battlenet, Epic Games, GOG, Nintendo Switch, Origin, PSN, Uplay, Steam, and Xbox. You can buy gift cards for Amazon, Apple iTunes, Blizzard, Google Play, Nintendo Switch, PSN, Steam, Xbox and more.
Gamivo is another marketplace for digital products. You can buy or sell game keys. GAMIVO's marketplace doesn't ship any physical products. Every product on site is digital. Buying is simple because there are no shipping costs.
Delivery takes just a few minutes. Once your purchase is completed, you'll receive an email containing a legitimate activation code. Follow the product activation instructions and use the code on your desired gaming platform (Blizzard app, Origin, Steam, Uplay, etc.). Registered users are the only ones allowed to buy game codes on GAMIVO's website.
If you want to see how G2A compares with mentioned game key marketplaces, I have made G2A vs Kinguin vs Gamivo vs Eneba comparison which you can check.
G2A Review Conclusion
G2A itself doesn't sell game codes. It's an online marketplace where people can buy and sell game codes. Once you've made a purchase, you'll get an email that has your key information on it. Go to relevant gaming platform (Steam, Ubisoft, Uplay, for example), log into your account and activate the purchased key. After that, you can download game files from the platform servers.
How can game codes be so cheap? Game prices typically vary from one country to another, based on average salaries. Many sellers buy game codes in areas where they're less expensive with the intent to resell those codes in countries where those codes are typically more expensive. This method is very profitable for both G2A and the game key sellers. Customers are usually getting their game keys at a discount when compared to manufacturers' suggested retail prices.
Many game developers don't like G2A. Some have advised their Twitter followers that it would be better to pirate their games than to buy their games on G2A if they can't afford to pay retail prices. Some of these developers claim that they don't make any money from games sold on G2A's website.
They also state that game codes are obtained more often by fraud instead of from valid retail purchases. These statements are false. Sellers can't create their own game keys for games. Game keys are supplied by game publishers. So game developers get money for keys. G2A reviews from people who used them can also be found on Trustpilot.
Buying games on G2A is safe, and most of the game keys purchased there will be valid and work. There are bound to be problems here and there, but the majority of such issues can be handled using the customer support center.
If you are interested in G2A alternatives, I have compiled list of other marketplaces where you can also purchase game keys.
Most people won't have any issues buying games on the G2A platform. One of the best ways to beat scams is by using a payment method such as a credit card or PayPal. Each of these payment methods has its own individual security measures for each transaction that they process. This improves the likelihood of successfully recovering your funds if something should go wrong.