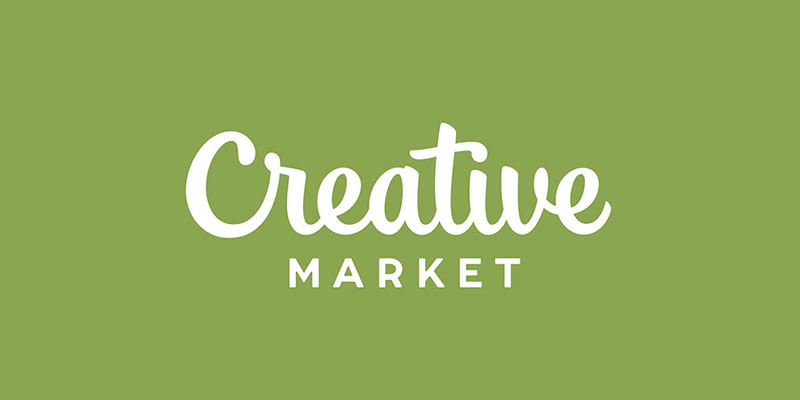 Creative Market is an online marketplace that offers a wide range of design materials, including photos, graphics, templates, themes, fonts, and more, all crafted by independent creators. You can buy ready-to-use design elements that can be instantly applied to your website.
Alternatively, you can also purchase design components like fonts or icons, which you can then tweak to fit into your other designs.
Think of Creative Market as a toolbox for your design needs. Whether you need a picture for a blog post, a sketch for a business card, or a template for a logo, they've got you covered. In addition, they offer ready-made design elements like logos, fonts, and graphics that you can use right away as is.
As a designer, you can sell your art directly on the platform to over 5 million monthly visitors. Sellers on the Creative Market platform earn 50% of the list price for what they sell.
Overall, Creative Market is an all-in-one platform for professionally crafted designs, allowing buyers to shop for high-quality brand assets and sellers to promote and sell their digital products to over five million monthly visitors.
Why Use Creative Market As A Business?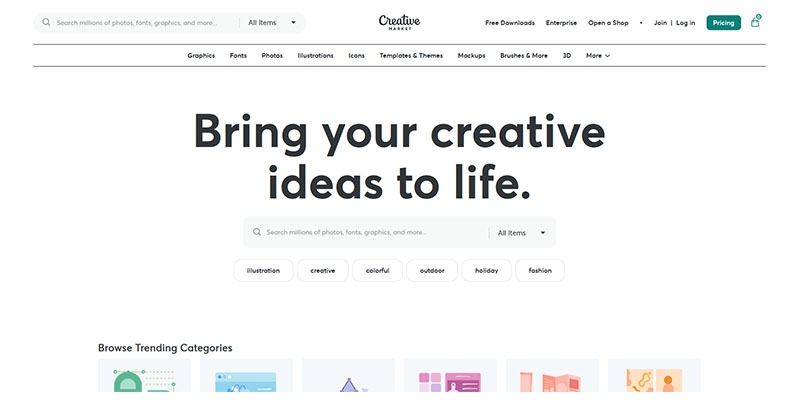 Business owners can use Creative Market's premade design content to enhance their website or to further customize their blog posts, advertisements, or other graphic designs. This includes images for blog posts, fonts, icons, illustrations, logo templates, and business card templates.
Dropshippers who sell print-on-demand goods can take advantage of Creative Market's "Collections" feature, which is available for Extended Commercial licensing.
Creative Market Collections allow you to purchase designs immediately and use them commercially without waiting for a designer to create them from scratch.
If you're on a tight budget, you can benefit from Creative Market's weekly bundle deals, discounts, and free assets on their "Free Downloads" page.
Why Use Creative Market As A Designer?
Designers can create an online store directly on Creative Market and sell their digital products to five million monthly visitors without any exclusivity lock-ins or product approvals required.
Here are the main benefits of selling on Creative Market.
Large Marketplace: Creative Market provides a platform for designers to sell their work, to an audience that is specifically interested in creative content. You have the opportunity to reach millions of customers worldwide.
Passive Income: Once your digital assets are created and uploaded, they can be sold repeatedly, creating a source of passive income.
Community: Creative Market has a community of designers, illustrators, and creatives who interact, share insights, and provide feedback. This can help you to improve your work and stay informed about current trends.
Free Promotion and Marketing: Creative Market promotes their sellers and products in weekly emails, social media, and on their website.
Create A Portfolio: You can sell a wide range of digital assets on Creative Market, including fonts, graphics, templates, web themes, and more.
Ease of Use: Creative Market is user-friendly and easy to setup for new sellers.
IP Protection: Creative Market provides secure transactions and protects your intellectual property rights.
Creative Market Pricing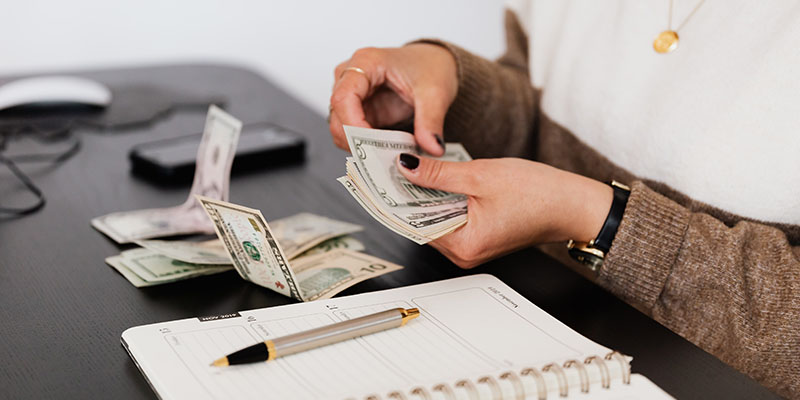 Creative Market offers four pricing plans for buyers ranging from $19.95 to $99.95 per month.
Although Creative Market has subscription plans, you can make direct purchases from their website. However, you won't be able to take advantage of any discounts or free digital goods that come with a subscription.
Here's a closer look at the features included with each plan:
| | | | | |
| --- | --- | --- | --- | --- |
| FEATURE | GROWTH | FREELANCER | PRO | STUDIO |
| Pricing | $19.95 a month | $29.95 a month | $49.95 a month | $99.95 a month |
| Discount | 10% | 12% | 15% | 20% |
| Credits | 1995 | 2995 | 4995 | 9995 |
All plans include:
A monthly drop of curated design assets that includes premium graphics, templates, fonts, and other items worth up to $1000 – all for free.
A discount on ten million design pieces.
Membership Credits. For example, if you're paying $29.95 a month, you will receive a credit of $29.95 each month that you can use towards your purchases.
Who Shops On Creative Market?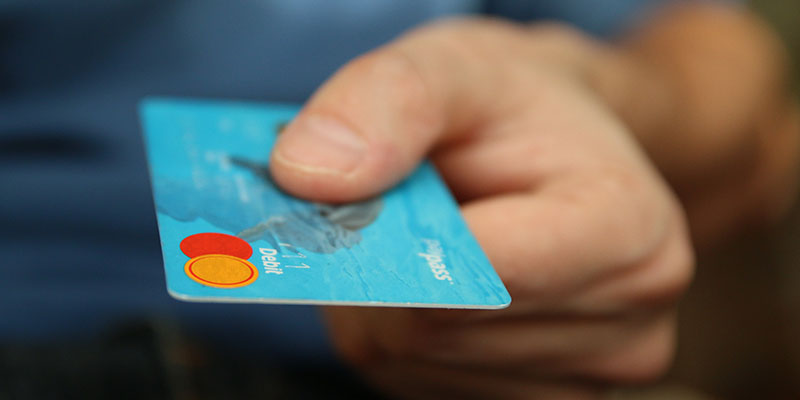 Creative Market attracts individuals and business owners who want access to premium design assets without the expense of hiring a professional designer.
As an ecommerce store owner, you will eventually need design content for various purposes, such as ad campaigns, blog post images, email newsletters, product mockups, logos, website design, and social media.
If you own a print-on-demand business, you can also use or modify designs you purchase on Creative Market for your merchandise.
How Do You Make Money On Creative Market?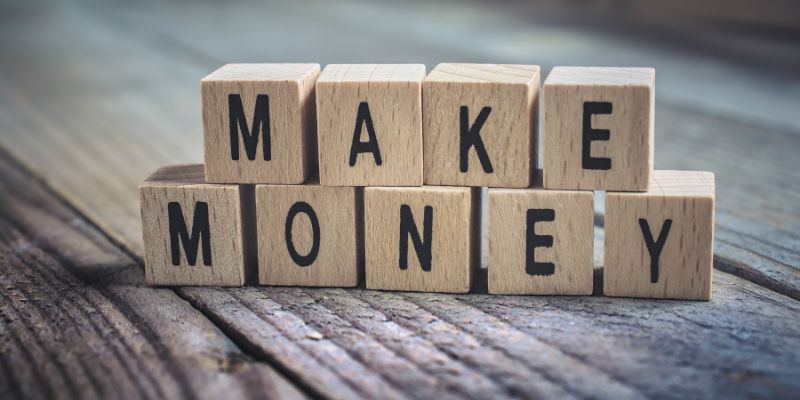 As a designer, you can make money with Creative Market by selling your own designs on their marketplace. However, Creative Market will take a 50%-70% commission on every sale you make.
Here's how to start selling on Creative Market:
Create Your Account: First, you need to sign up for a free account on Creative Market. Then, apply to become a shop owner and await approval.
Prepare Your Products: Once approved, you can start creating digital products. These can range from illustrations, graphics, and photos to fonts, templates, and themes. It's important to ensure your products are high quality, original, and cater to the needs of your potential customers.
Set Up Your Shop: After creating your products, you'll need to set up your shop. This includes uploading your products, writing descriptions, setting prices, and showcasing previews of your products. Make sure your shop looks professional and enticing to potential buyers.
Promote Your Shop: You must market your shop to drive traffic and increase sales from various sources such as social media, blogging, email marketing, or other promotional techniques.
Earn money: Creative Market will pay you a 30%-50% commission for every item you sell.
What Are The Requirements To Sell On Creative Market?
To sell on Creative Market, you must fill out an application with 10 to 20 unique, professional-quality pieces within a portfolio you submit.
The platform has no location restrictions, and Dribbble Pro members can start selling without applying.
Creative Market Products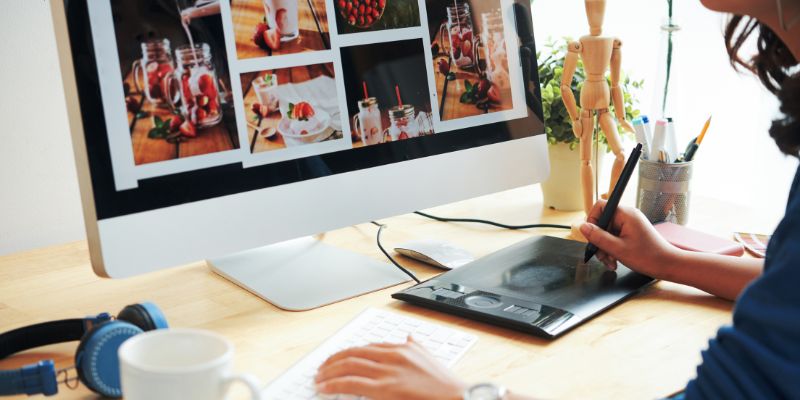 Creative Market's marketplace includes photos, graphics, fonts, illustrations, icons, templates, themes, mockups, 3D models, and brushes. Let's take a closer look at what's available.
Graphics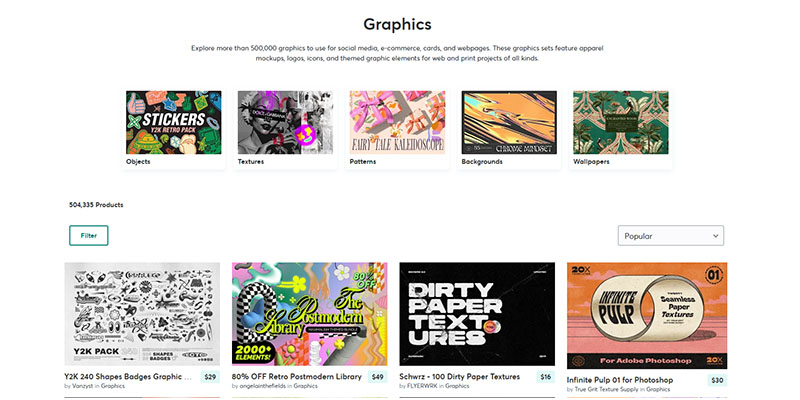 Creative Market provides 500,000 graphics like icons, illustrations, patterns, product mockups, textures, and wallpapers.
You can use them to create mockups for a t-shirt business or content for social media pages and web pages.
Photos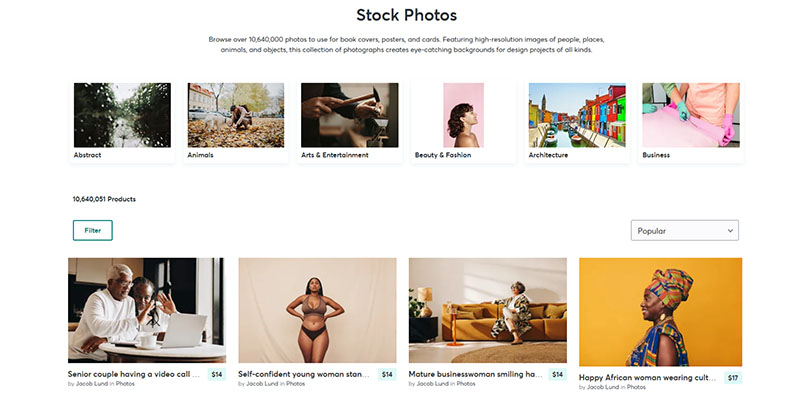 Creative Market provides a diverse selection of ten million high-resolution photos in the categories like arts & entertainment, beauty and fashion, food and drink, and holidays.
Whether you need high-quality images for your blog posts, Facebook ads, or email campaigns, Creative Market has you covered.
Themes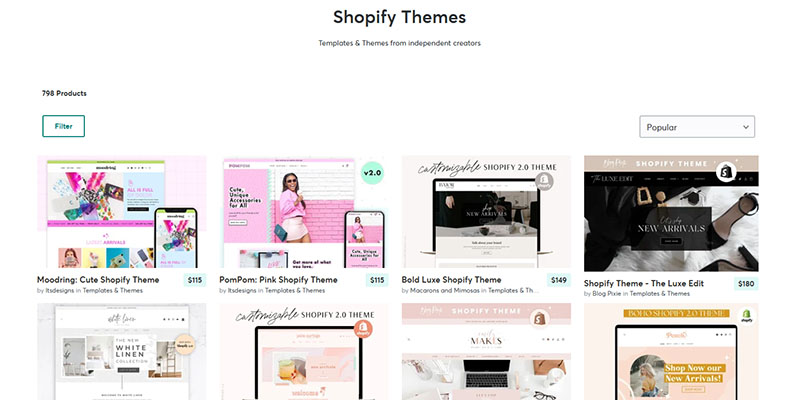 Creative Market has thousands of available themes to help you build a visually appealing landing page for your BigCommerce, Shopify, WordPress, or Wix store.
Templates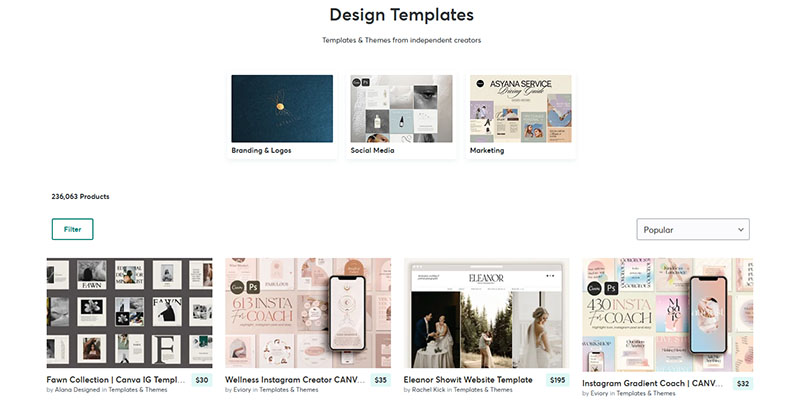 Create eye-catching content for your infographics, flyers, logos, landing pages, slides, wireframes, and webpages using Creative Market's templates.
The branding bundles in this category can also help you build an attractive and consistent brand that conveys reliability and professionalism to your audience across all your platforms.
You can use Creative Market's social media templates for platforms like Instagram, Pinterest, Facebook, and Twitter.
Fonts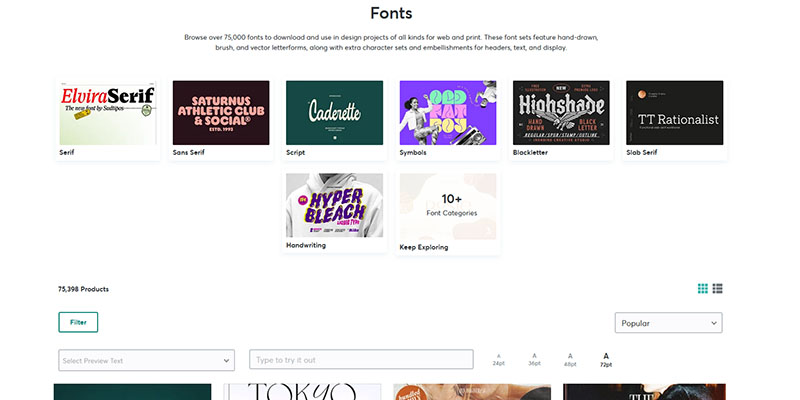 Creative Market sells over 75,000 fonts in categories like Serif, script, and handwriting to help you create the perfect tone for your brand.
Free Digital Goods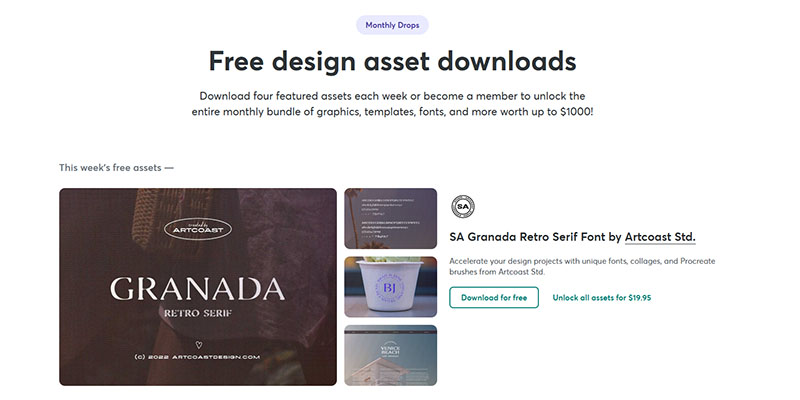 Creative Market offers a Free Downloads page if you're in search of top-notch design assets at no cost. Note that you need to subscribe to a paid plan to unlock all the free assets.
Resources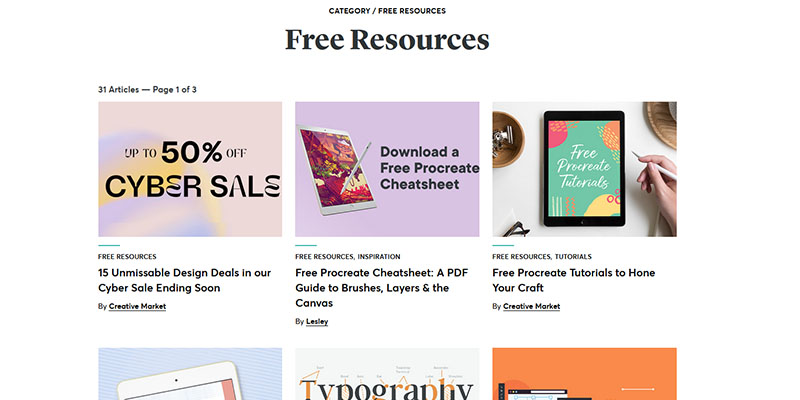 The Creative Market website also offers free resources, such as how-to tutorials, design tips and tricks, inspirational articles, and roundups of their best design assets.
Their blog is a solid resource for those looking for inspiration for their website or brand.
How Does Licensing Work With Creative Market?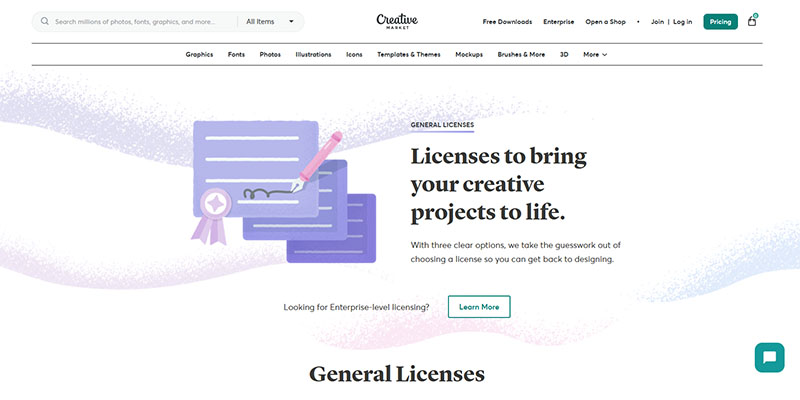 Creative Market offers three types of licensing: Personal, Commercial, and Extended Commercial.
With the Personal license, you can use the assets for non-commercial purposes and on one personal social media account. However, they cannot be used for business social media accounts, paid advertisements, or commercial end products.
A Commercial license permits you to use t